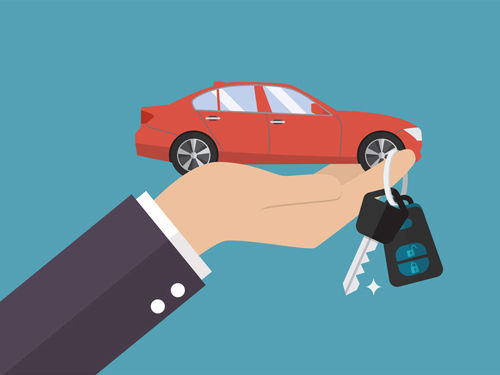 Best Practices When Buying A Vehicle
Before walking on the car lot to purchase a vehicle, it is important to ask yourself a few key questions:
What is my purpose for buying a vehicle?
How much can I afford to spend?
What is the maximum monthly auto loan payment that fits my budget?
What are the features I would like to have in my vehicle?
What type of vehicle do I need?
Once you've answered those questions, then you can begin shopping without being dangerously swayed by emotions. Below are tips to help you during your time on the car lot.
Nail down the right deal. Don't be swept away with the dealership offers and don't let the salesman intimidate you into rushing your decision. Choose vehicles that best fit your needs and then compare total costs including incentives and rebates. Calculate how much you need to pay each month using the Auto Payment Calculator. Most importantly, look out for hidden charges and upsells. Once you've assembled all the facts then you can get the right deal for your needs.
Listen to the experts. Read the expert reviews and ratings in the consumer magazines, and then follow-up by researching actual consumer reviews from real people who bought the same model of car. This information is available online – usually for free. Whether you've found the vehicle you want through your own research or have been directed to a dealership by a buying service, do your homework and compare it with other vehicles.
Take a test drive. Nothing beats direct experience for deciding if the vehicle fits your needs. When test driving the vehicle pay attention to interior and exterior features for ride comfort, noise, power, acceleration, braking and handling.
Don't let the sales agent pressure you. Auto salesman are famous for their sales and pressure tactics. Car dealers may make you feel that there is great demand for the model you like. They will try to create a deadline of sorts to motivate an impulse decision. They may even tell you that a special deal is only for a limited time. But remember, if the model you like is no longer available, the car dealer will probably give you all sorts of other offers rather than lose the sale. So take your time before signing on the dotted line.
Which Auto Payment Fits Your Budget?
Before you buy a vehicle, it's a good idea to look at all your auto payment options.
The most common auto payment terms are 12, 24, 36, 48, 60, and 72 months. Each loan term will produce a different monthly payment because of the difference in amortization.
Comparing the impact each of these different loan terms will have on your budget can be difficult.
This Auto Payment Calculator makes it easy by showing the required auto payments for each of the most popular loan terms so you can select the one that best fits your budget and personal financial goals.
Below are helpful tips and and best practices so that you can maximize the value you get for any given auto payment when buying a vehicle.
What Will Your Monthly Car Payment Be?
Thinking about buying a car with a loan?
Don't know what the payment will be, or if you can afford it?
It's important to figure out your monthly car payment to see if it fits your budget.
Thankfully, this Car Payment Calculator offers fast results, revealing your monthly car payment to help you make the right purchase decision.
Simply enter the car purchase price, down payment, trade-in allowance, interest rate, and loan term. Click "Calculate Car Payment" and this calculator will do all the math for you revealing the monthly car payment.
Consider Your Budget
Buying a car is usually the second most expensive purchase you'll make next to buying a home. It's important to weigh your options carefully.
The easiest way to determine how much to budget for a car is to calculate how much you can comfortably afford to spend each month. Try out our Budget Calculator to determine an appropriate transportation budget.
The Car Payment Calculator will then help you find the monthly payment for any vehicle, including boats, trucks, recreational vehicles and motorcycles. Be smart by getting a vehicle that fits well within your budget.
Getting The Best Deal
Before you sign on the dotted line with the auto dealer, make sure you get the best price. Here are some tips to consider when shopping for your next car:
Ask for quotes from different car dealers – Calculate and compare the options. Negotiate and let dealers know that you are also gathering quotes from other dealers.
Keep your method of payment to yourself until you buy – You may get a better price if the dealer thinks you will finance the car. Many dealers will negotiate more aggressively on price if they believe they will earn back those concessions through financing. Even if you are going to finance, but are able to provide a down payment, keep this information to yourself until the appropriate time.
Don't be pressured by sales strategies – Some salespeople will tell you that the car price will increase in the coming days so you'll be pressured to buy immediately. Don't fall for these high pressure tactics.
After negotiating a satisfactory price, ask your dealer for written confirmation of the final price – Ensure no other fees are added to the quote. This document is a way to bind the dealer and lender to an agreement.
Try calling ahead of time to several dealers – Tell them you are going to purchase a particular car at a specific time (maybe by the end of the week). Creating a bidding war where various dealers lower prices to beat their competitor and capture your business!
Make a large down payment or trade in a vehicle – The less loan you start with, the lower your monthly payment. Consider paying cash for all or a large portion of your purchase!
Other Expenses When Buying A Car
There are several other expenses associated with buying a car. You need to pay for insurance, registration, and modifications to fit your standards. The more expensive the car, the higher the insurance will cost.
Once you have a car in mind, ask the dealer to include all the costs related to the purchase so you can make a realistic calculation of your payment – not only your monthly payment, but your upfront costs as well.
Final Thoughts
Buying a car is a major financial decision. Don't be hasty. Take your time and negotiate.
Although it's tempting to buy a car right away when you need one, consider alternative forms of transportation until you have done your due diligence. Pay attention to your budget. Negotiate better deals. Ask friends and family if you're being reasonable – encourage them to be straightforward.
Use this auto loan payment calculator to help determine if you can afford a car loan. Will you really be able to pay on time every month for the duration of your loan term? Be realistic and honest with yourself.
Hopefully these tips have helped you so that you can drive off the car lot confident you got the best deal.
Car Payment Calculator Terms & Definitions
Car Purchase Price – The amount you pay for buying a car (include all fees figured into your loan).
Down Payment – The initial payment you pay the dealer or financing company which is subtracted from the car purchase price.
Trade-In Allowance – The assessed value of your old car deducted from the purchase price.
Interest Rate – The percentage rate for your loan in case you opt for financing.
Loan Term – The number of months to pay off your car loan.
Loan Amount – The amount borrowed after subtracting your down payment and trade-in allowance.
Monthly Car Payment – How much you'll have to pay every month for the duration of your loan term.